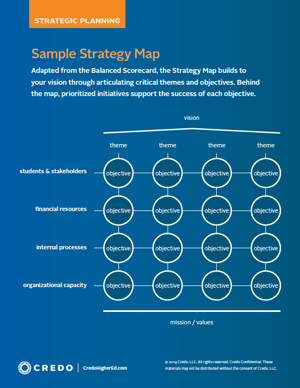 The Credo Strategic Plan is flexible, adaptable, and iterative. We can lay our process into any existing plan at any point in your planning or implementation process. Combined with your insider ideas, we'll provide diagnostic tools, data, and software to track your progress and make sure you're implementing your initiatives and successfully meeting your objectives over time.
Get on track or move further ahead than you thought possible by creating and implementing a strategic plan that will impact your institution's culture of innovation, habit of reflection and intentionality, and net revenue and strategic finance.
Transform your entire campus with a tangible vision for success and empower your leadership, faculty, staff, and students to fully live out your mission.